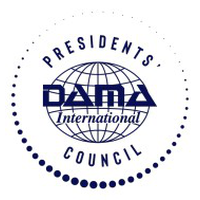 The DAMA Presidents' Council has gone through a very positive journey to refresh the space in which DAMA Chapters can find opportunities not only to be updated with DAMA-I news but to exchange experiences and best practices learning from each other and contribute to support other Chapters. Under this ending term, important goals were achieved:
•  The Presidents' Council's Charter was approved
• A Presidents' Council collaborative space in Teams was created
• A Collaborative initiative created a Quick Startup Guide from Chapters for Chapters
• A Chapter Mentoring program was launched in the first stage to leverage more mature Chapters' experience
• An overview of the Chapters' Membership was collected
All these and more to come are expected to be seen in the space to listen to DAMA Chapters and to create synergy among all the Chapters around the world.
We are now in the PC Chair Election for the 2023-2024 Term process, and the Voting window is now open!
We are proud to announce that two candidates are willing to embrace the challenge to continue developing this space:
DAWN MICHELS - current President of DAMA Minnesota
Nomination Rationale: "Dawn is known for her long service to DAMA as President of DAMA-MN, multiple times since the 1990s, and as a DAMA International Chapter Services VP. Dawn is passionate about Data Management and a passionate, involved member and supporter of the DAMA Organization for over 30 years. Recently, she also served as PC Committee Chair for the QSG - Quick Start Guide, a reference for new and restoring chapters. She has spoken at and attended 23 EDW or DAMA I Conferences sharing her deep knowledge with thousands of people and served as university adjunct faculty teaching data courses. Dawn is also always available to offer personal advice to others navigating data challenges in their organizations. She has held her CDMP since it was available and stays current on new developments in data. As a fellow Board member of DAMA-MN who has known Dawn for much of her career, I can attest to her tireless work for DAMA and the integrity, professionalism, and human touch that she brings to every task or encounter."
MIKITAKA (MICK) HAYASHI - current President of DAMA Japan and APAC Regional Coordinator
Nomination Rationale: "Mick has served DAMA Japan as President for long time and DAMA I as APAC Coordinator as well. His contribution and dedication to the DAMA society justifies the nomination for PC Chair at an international level."
We want to hear all the Chapters. This is time to vote for the PC Chair. The voting window will close on 11 November 2022 at 23:59 UTC. Make sure your Chapter, if eligible, submits its vote on time!
If you require the link to the PC Election Ballot, please contact eugene.desyatnik@dama.org
---