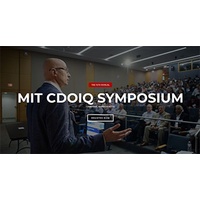 15th Annual MIT CDOIQ Symposium
July 20-22, 2021 (Virtual)
30% discount: Register now with code 2021MITCDOIQ30%
Offer expires on May 31, 2021.

The MIT Chief Data Officer and Information Quality Symposium (MIT CDOIQ) is one of the most impactful events for sharing and exchanging cutting-edge ideas, content, and discussions regarding information quality and the emerging role of the CDO. The purpose of the MIT CDOIQ Symposium is to disseminate the latest advances in the information quality field and facilitate the wide-scale adoption of the critical role of the CDO in all industries and all countries. This year, again, the Symposium aims to help you gain knowledge and the tools necessary for dramatically improving the performance of your organization and making a difference in the world. We anticipate that over 2,000 CDOs, IT executives, and data leaders will attend this year's Symposium. More than 500 of them have already registered, and seats are filling up quickly. Please register early and be part of this official MIT event!

30% discount: Register now with code
2021MITCDOIQ30%
Offer expires on May 31, 2021.

---