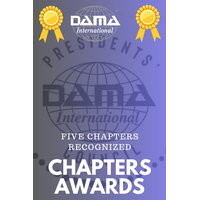 DAMA International and the Presidents' Council Chair are pleased to announce the winners of the 2023 DAMA Chapters AWARDS. We maintained five categories to recognize DAMA Chapters:
Value Added to Membership

Inspiring other Chapters

Collaboration with other Chapters

Innovation

Participation with DAMA-I and the Presidents' Council
All the Affiliated Chapters and DAMA-I Board members were able to nominate Chapters based on finding a Chapter as outstanding during 2023 in one or several of these aspects.
This year's AWARD Committee was formed by:
Cathy Nolan (DAMA- Board Member - Chair)
Eugene Desyatnik (Past PCC)
Dawn Michels (Presidents' Council Chair)
Marilu Lopez (Chapter Services VP)
Dee Nelson (DAMA Los Angeles Forming Chapter)
Congratulations to the winners, as they are a great example to encourage all the DAMA Chapters to continue working towards developing our Data Management community to work towards having a world with better data.
Inspiration - DAMA Edmonton

Innovation - DAMA - Australia

Collaboration - DAMA Italy

Value - DAMA Colombia

Participation - DAMA Japan
We are very grateful for all the essential work these DAMA Chapters are doing. We'll continue recognizing the excellent work of the DAMA Chapters around the world.
---