DAMA INTERNATIONAL & Dataversity
Pay If You Pass CDMP® Testing at DGIQ
DGIQ satisfies the continuing education requirements of the Certified Data Management Professional (CDMP) credential. December's DGIQ offers several exam times at the conference. Frequently asked questions and exam costs are available at https://cdmp.info.
CDMP Pricing (Paid to DAMA directly):
Data Management Fundamentals: USD $300

Data Governance: USD $300

Data Quality: USD $300

Data Modeling and Design: USD $300

Metadata: USD $300

Reference And Master Data Management: USD $300

Data Warehousing and Business Intelligence: USD $300

Data Integration And Interoperability: USD $300
Please Read: Exam fees must be paid to DAMA International and are NOT included in your conference registration package. You will need to bring your own laptop or tablet. The exams are online, so please make sure you can access the Wi-Fi or have the appropriate data coverage.
Enhance Your Data Management Career!
• The CDMP Associate
• The CDMP Practitioner
• The CDMP Master
• The CDMP Fellow
All CDMP Exams test your knowledge of the DAMA Data Management Body of Knowledge version 2 (DAMA-DMBoK2). You can obtain a copy of the DAMA-DMBoK2 here.
To learn about the exams and recertification, please visit https://cdmp.info.
For further information on the CDMP designation and examinations, please contact cdmp@dama.org.
CDMP Testing Schedule at DGIQ*:
Monday, December 5, 5:00 pm - 7:00 pm
Wednesday, December 7, 11:15 am – 1:15 pm
Wednesday, December 7, 5:00 pm – 7:00 pm

*Dataversity will provide a signup to pre-select your exam times.
Please read the FAQs below to ensure you are prepared for your exam:
The exam is "Pay if You Pass." You will be asked for payment only if you pass.

Please bring a laptop and a credit card for payment.

Please ensure you bring a laptop that will allow access to the exam (work laptops with restrictions about which sites you can visit may not allow you to access the exam).

Please note that if you fail the exam and want to take it a second time, you will be expected to pay whether you pass or fail.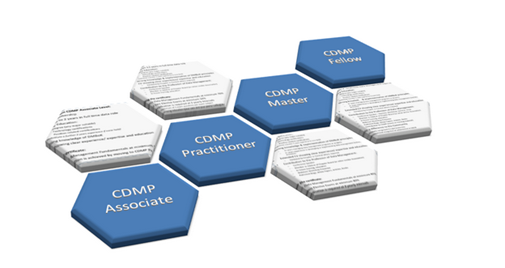 ---